Hi, name is Smart zombie. I really miss when this wiki was my main place, but it's hard to stay a fan of a show that doesn't intend on making new episodes yet doesn't call itself canceled. I'm now on the BFB Wiki, BFB has basically become what HTF use to be to me at this point. Let's just say if the show ever intended to make more episodes, I'd be more then happy to come back.
Character Ranking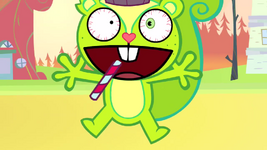 ===Favorite Characters===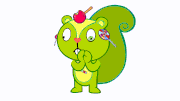 Nutty
Mime
Shifty
Lifty
Handy
Lumpy
Pop
Flaky
Toothy
Cuddles
Splendid
Disco Bear
Cub
Mr. Pickels
Petunia
Lammy
Flippy
Giggles
Cro-Marmot
Russell
Mole
Fliqpy
Sniffles
My Brother's Character Ranking Order
Pop
Disco Bear
Splendid
Lumpy
Lifty
Shifty
Mr. Pickels
Lammy
Giggles
Flaky
Cub
The Mole
Flippy
Cuddles
Mime
Toothy
Sniffles
Nutty
Petunia
Handy
Cro-Marmot
Russell
Things That Need to Be Finished on the Wiki
(Everyone is welcome to help)
Get rid of all Black borders.
Get rid of all obvious goofs and unnecessary trivia for characters.
Get images of more HD quality for the characters' costumes.
Edit and add more stuff to the HTF Real Life page.
Add information from the reddit.
How I Split/Categorize the Characters
Main Characters
(Cuddles, Giggles, Toothy, Lumpy, Petunia)- I choose to group these characters together because of how often they are seen in episodes and you never know what will happen with them in the episode. One thing they have in common (except Lumpy) is that because of their numerous appearence they are bound to survive a lot of episodes and they all break out of the standard 11-13 episodes survived spot.
Those Three Guys
(Handy, Nutty, Sniffles)- All of these characters could appear in an episode and you never know when. They all have a similar death rate and they all are reasonably popular in there own way in the fanbase.
Side by Side
(Lifty, Shifty, Pop, Cub)- These characters are duo characters, they are related, and they are both well known for there characters plots. You know what kind of episode your gonna get when you see them starring in an episode.
Those Three Guys pt. 2
(Disco Bear, Russell, Mime)- These characters tend to not appear in episodes that often and they all have a similar number of episodes survived. They aren't as popular as many of the other characters in the fanbase, but are still moderatly popular. If they die in an episode I feel a viewer would most likely think "Oh crap that guy, whatever his name is, died!"
Where the Hell Have You Been
(Cro-Marmot, Flippy, Splendid, Lammy, Mr. Pickels)- These characters hardly ever appear in episodes but when they do it's usually a very huge deal in the fanbase, excpet Cro-Marmot, but considering how little Cro-Marmot is the main focus for an episode it would be huge if he got another starring role. Another thing with these characters is that they all rarely die and they all have more kills then deaths
Other
(Flaky and The Mole)- I don't really see where these two fit in.
Injury Count
Cuddles Individual injuries: 48 Episodes Injured: 29
Giggles 42 30
Toothy 37 22
Lumpy 107 50
Petunia 32 22
Handy 27 16
Nutty 31 20
Sniffles 29 18
Pop 8 7
Cub 34 22
Flaky 22 15
The Mole 11 8
Disco Bear 18 7
Russell 20 11
Lifty 13 9
Shifty 13 11
Mime 11 9
Cro-Marmot 6 6
Flippy 6 5
Fliqpy 6 4
Splendid 12 5
Lammy 2 2
Favorite Background Music
Ipso Fatso: The music that plays when the treadmill Disco Bear is using starts moving by itself. I use to him this while I ran laps in gym.
Chew Said a Mouthful: When Nutty is chasing Toothy on the street.
Don't Yank My Chain: Handy being dragged by a train.
See What Develops: Splendid's picture is taken.
Gems the Breaks: Lifty, Shifty, and Splendid's starring pop ups. So mysteriously jazzy.
A Sucker for Love: Elderly Nutty and Chocolate Box rocking in chairs, before she collapses. (Beautiful)
Can't Stop Coffin: Cuddles helplessly dragging himself across the floor before getting crushed.
Read 'em and Weep: Pop and Lumpy mourning Cubs death at the end. (Really sad music used there)
Doggone It: The Moles death.
Easy For You to Sleigh: Flippy wakes up and Flips out. Shiftys death. (Sounds really dark with Shiftys screaming)
Updated Halloween Intro music and end credit music.
Party Animal: The build up to Toothys death and when he's killed. (This music is just so dramatic and scary at the same time.)
Kringle Feast: Whole episode. (Simply beautiful until you here Lumpy's grunting and laughing)
An Inconvenient Tooth: the music that plays When Toothy files his teeth and when he rolls down the hill. (I think it was used better here then in Wishy Washy.
Episode Ideas
#
Title
Plot
Starring
Featuring
Appearances
Deaths
Survivors
Moral
1
"Mime's the Limit"
When Mime wrecks his unicycle, he decides to get a driving license.

Lammy
Sniffles
The Mole
Sniffles
Pop
Cub
Lumpy

Cuddles
Russell
Giggles
Petunia
Handy

The Mole
Cuddles
Russell
Sniffles
Pop
Cub
Giggles
Petunia
Lumpy

2
"Love is Blind"
When Disco Bear fails to impress the ladies, he finds a way a to force them to love him. Unfortantly this method applies to male characters.

Giggles
Petunia
Flaky
Lammy

Mr. Pickels
Cuddles
Lumpy
Sniffles
Russell
Flippy
Lifty
Shifty
Nutty
Handy
Toothy
Mime
Pop
Cub
Flippy
Splendid

Cuddles
Sniffles
The Mole
Cub
Toothy
Giggles
Disco Bear
Lumpy (Debatable)

All is fair in love and war.
3
"Trash It"
Cub throws a fit when Pop accidently throws out his favorite toy, so Pop has to retrieve it.

Petunia
Russell
Lumpy
Handy

Cub
Petunia
The Mole
Toothy

One man's trash is another man's treasure.
4
"The Pickel Effect"
A trip to a snow resort goes horribly wrong.

Disco Bear
Giggles
Petunia
Pop
Cub
Flaky
Russell
Handy

Nutty
Sniffles
Lifty
Shifty
Cuddles
Toothy
Cro-Marmot
Russell
Lumpy

Disco Bear
Cub
Mime
Pop
Flaky
Russell
Nutty
Sniffles
Handy
Lifty
Shifty
Cuddles
Toothy
The Mole
Lumpy
Cro-Marmot
Giggles
Petunia
Handy

Be as pure as the driven snow.
Userboxes
____________________________________________________________________________
My Favorite Things to do on This Wiki
Mostly any thing related to death or kill counts. I also like adding trivial facts and categories to characters and episodes.
Things I Like
(Nothing is ranked except for shows)
Shows
Invader Zim
South Park
Rick and Morty
Ed Edd n Eddy
Steven Universe
The Amazing World of Gumball

Spongebob (Season 1-4 only)

King of the Hill
My Little Pony
The Simpsons

Adventure Time

Bobs Burgers
Youtube
Happy Tree Friends (obviously)
Dick Figures
Deep Space 69
I Hate Everything
Mysterious Mr Enter
Cyanide and Happiness
Negative Reviewers of Movies or TV shows
Other numerous channels
Every Anime I've Watched
Akame ga Kill
Air
Angel Beats
Ano Hi Mita Hana no Nama
Another
The Melancholy of Haruchi Suzimiya
Attack On Titan
Clannad
Clannad After Story
Corpse Party
Kanon
High School of the Dead
Highschool DXD
Corpse Party: Tortured Souls
Another
Elfen Lied
Toradora
Death Note
Air
Ef
Ouran Highschool DXD
Sakurasou
Anohana
Parasyte
I Don't Know What My Husband is Saying
Akame Ga Kill
Sword Art Online
Fairy Tail (Currently Watching)

Games
Clash Royale
Favorite Deaths for Each Character
Cuddles

Giggles

Toothy

Lumpy

Petunia

Handy

Nutty

Sniffles

Pop

Cub

Flaky

The Mole
Disco Bear

Russell

Lifty

Shifty

Mime

Flippy and Fliqpy

Splendid
Top Ten Favorite Lumpy Kills
Top Ten Favorite Fliqpy Kills
Favorite Kills From Each Character
(If there is one thing you should know about me its that I'm really obsessed with kill counts, also i'm not counting Lumpy cause his kill count is huge and Fliqpy since his kills are obvious)
Cuddles
Giggles
Toothy
Petunia
Handy
Nutty
Sniffles
Pop
Cub
Flaky
The Mole
Disco Bear
Russell
Mime
Lifty or Shifty
Cro-Marmot
Flippy
Community content is available under
CC-BY-SA
unless otherwise noted.