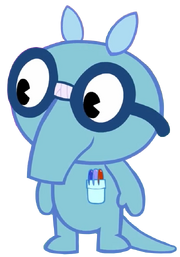 Hello there, I'm Firealarm. I would've just called myself Firealarm but I couldn't name myself to that, so I named myself to this, I could've thought of a better name by now other than this, but eh. I prefer to just be called Firealarm. I know many people will probably call me by my current username but I'm just saying I want to be called Firealarm because I don't like my current username anymore.
I come on this wiki every once in awhile, and sometimes I'll occasionally make edits to some articles or maybe even comment on them. My favorite character in Happy Tree Friends is Sniffles.
I first discovered this show around 2014, and ever since then I became a fan of this show, Home Is Where the Hurt Is was one of the first episodes I saw.
Links
Check out my youtube channelif you want to.
Follow me on Roblox if you'd like to, my username is TheFirealarmSpartan. However I do not accept random friend requests, I only accept friend requests if I recognize your username or if I know you.
Thoughts about Happy Tree Friends
I would describe Happy Tree Friends as a very, well obviously gruesome show. But however, I actually can handle the show's gore and I find it enjoyable, I may sound weird to some people when I say I find the gore enjoyable but that's just my opinion. It probably doesn't affect me that much due to the fact that I was able to handle it when I first discovered and watched an episode of this show, double the fact that I became a fan of the show. Happy Tree Friends is really the only show that I watch in my spare time, though that doesn't mean I don't watch other shows as well.
Reasons why I like Happy Tree Friends:
The show is dark-humored.
The character designs.
The show contains no humans.
The background music that is used in episodes.
The creative ways the characters die.
Most gruesome episodes
Well obviously, every viewer would say that Wishy Washy and Tongue in Cheek were the m

ost brutal and gruesome episodes, which I totally agree with.
But however, if I had to exclude those 2 episodes I'd have to say Double Whammy Part I and Autopsy Turvy (Double Whammy Part II) were the most brutal and gruesome episodes, those episodes had some brutal deaths in it, especially since it had that bloody fight near the end of part 2.
Worst deaths (in my opinion)
Ok, let's just go ahead and say that all of the deaths are sadistic, painful, and gruesome. But there are certain deaths that stick out from the others and they are considered to be more gruesome than the usual gory deaths. Here are some of the worse deaths from my perspective.
The worst death I'd have to pick out of the list below would have to be Lumpy's death in Wishy Washy, did you not see his corpse? Then again, Sniffles death inTongue in Cheek was pretty sadistic as well, but Sniffles' corpse was no where near as detailed as Lumpy's corpse.
Favorite Episodes
I have a couple of favorite episodes.
Community content is available under
CC-BY-SA
unless otherwise noted.