Truffles' Video Bomb Competition was a contest where contestants could enter a fan character and one lucky winner was submitted and made into the series as a canon character, voted by the fans themselves.
The first contest ended on July 31, 2013, and "Really Good Unicornius" by Oliver Hindle, as well as "Tricksy" by user rainbowspetsnaz won.
Top 10 Ranks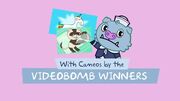 The names of the entries are used, whether they use grammar or not.
Really Good Unicornius (the creator, Oliver Hindle, is affiliated with Mondo)
boglyes
Patty The Squirrel
Ale
Flappers
Jacks
George: the saber-toothed tiger.; Bryan: the wild squirrel.
Lulu
Timothy The Tiger
Top Halloween Ranks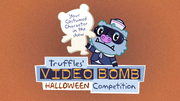 A Halloween variety of this competition started on October 3rd, 2013. This time around, all entries had to be dressed up in a costume. The contest ended on October 14th, 2013.
Persimmon
Duke
Xenia Htf
Dozy
Patty (Catwolf)
Slenderman.
BROWNIE-MK15
Goldie
Gotty & Ricky
Trivia
This was the second contest (Vote or Die), but this was the first where you make your own entries.
The promo video contains fan characters found around the internet, including popular ones such as Neena.
According to the FAQ associated with the competition, the winner would make a cameo appearance in an upcoming episode (much like Truffles, the host of the contest).
There's a small possibility that Truffles could have a larger role in the upcoming episode, while the winners take his place in cameos.
Some of the characters that are submitted in the competition are shown in the Video Bomb Collection trading cards.
Videos
See Also
Community content is available under
CC-BY-SA
unless otherwise noted.