The Ducks are non-anthropomorphic characters in Happy Tree Friends. So far, there have only been two types of ducks: normal ducks that are harmless, and killer ducks, which are much more aggressive.
Character Bio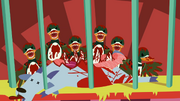 The Ducks appeared in two episodes and in one game. There is two variations of ducks in Happy Tree Friends: usual ducks in The Way You Make Me Wheel and killer ducks in Mime to Five and in Hare Trigger. Usual ducks are the family of the ducks - mother and three ducklings, and Killer Ducks are the group of carnivores ducks, that killed and ate a goat, Lumpy, Giggles, Cuddles (both in the episode and in the game), Russell, The Mole, Nutty, Lumpy's Elephant (Debatable) and lots of Generic Tree Friends.
Appearances
Kills
Additional
Deaths
None
Community content is available under
CC-BY-SA
unless otherwise noted.