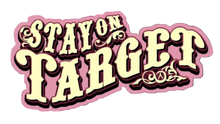 Stay on Target is a Happy Tree Friends arcade game exclusive to Mondomedia.com. The objective of this game is to hit targets.
Mondomedia.com description
Take a spin with Petunia, Giggles or Lammy on the wheel of misfortune! Do you have what it takes to hit the mark?
Gameplay
The player plays a blindfolded Lumpy and must select either Petunia, Giggles, or Lammy to be in the game. The player must throw five darts at targets, which are on a giant target wheel with the chosen character chained up in the center. Once all the targets are hit, the player advances to the next level.
With each new level, the wheel spins faster and changes directions, making the targets harder to hit. If the player misses the target wheel or hits the character, the number of darts goes down. The player has five hits as a whole. When all the hits have been used up, the game will show the player's match score, level bonus, and bullseye score on a chalkboard. Also seen is Petunia impaled by numerous darts.
Deaths
Trivia
Community content is available under
CC-BY-SA
unless otherwise noted.