Wiki Targeted (Entertainment)
Play Sound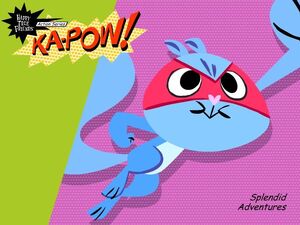 This article is about the Ka-Pow! Series. For the group of characters of a similar name, see Supremely Sensational Stupendously Spectacular Super Squad.
Splendid's SSSSSuper Squad is Splendid's series in the action spin-off Ka-Pow!. It aired November 18, 2008.
About the Show
Though originally meant to air on the 4th of November, the release was pushed back due to the release of HTF Breaks. It was originally called the "Splendid Adventures" until the creators changed the title to Splendid's SSSSSuper Squad. They may have done this for the same reason they changed Flippy's Journal to W.A.R. Journal, so they can have episodes that are themed around other characters and not just Splendid. The first episode featured Splendid doing what he does best; killing those he tries to save. Things take an interesting turn, however, when a new hero comes in to take Splendid's place. Splendid, however, has back up.
Splendid
Presently, nothing is new has been revealed about Splendid, though it is possible that there will be new information about Splendid's past in future episodes. Unlike the internet and TV series, his mitten-like hands have lines that indicate that they're his fingers. He still has buckteeth, and his wingspans are only visible when he flies.
Setting
A large city similar to the one from Mole in the City.
Episodes
Characters
Main Character
Allies
Supremely Sensational Stupendously Spectacular Super Squad    
Neutral
Enemies
Trivia
It was originally called Splendid Adventures.
Splendid's weakness Kryptonut is likely to return to cause him more problems.
Related Articles