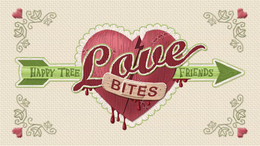 The Love Bites are a series of Valentine's Day-themed Happy Tree Friends shorts.
About
Love Bites is a series of Happy Tree Friends shorts which last for around a minute each. The graphics and animation are similar to that from the third and fourth seasons of the web series and the TV series. The opening shows a bleeding cracked heart with a bandage attached to the middle of the crack and a green arrow pierced through it with the words "Happy Tree Friends" without the original Happy Tree Friends opening theme song. Each episode of Love Bites stars two main characters (male and female) on a romantic date which quickly goes horribly wrong.
Unlike the main show and the Kringles, the morals used in every episode are phrases usually said in relationships about to end, like "We don't see eye to eye anymore".
List of Love Bites shorts
Trivia
Love Bites are shown in widescreen format at happytreefriends.com (now mondomedia.com/channel/HappyTreeFriends). On YouTube, MondoMedia provides HD for all the Love Bites shorts.
In spite of being a canon relationship. Cuddles and Giggles have not yet starred in a Love Bite, but are likely to do so in the future.

Ironically, Giggles is with other male characters.

Cold Hearted is the only Love Bites short with no deaths, and the only one so far to feature more than two characters.
My Better Half is the only Love Bites short where both the male and female protagonists die. 
Sea of Love is the only short where just the male character dies.
Giggles stars in almost all episode