This page will list every instance when a character has been aware of someone else's death or injury and has shown no sign of negative emotion, or has remained oblivious to a death or an injury they should have easily noticed.
Cuddles seems to care about a lot of his friends, but his recklessness makes him oblivious sometimes.
Apathy
Obliviousness
She is perhaps one of the most caring characters in the show, but even she has her moments
Apathy
Obliviousness
This go lucky beaver seems to be the character with the least amount of instances when he is oblivious to his friends dying. Either that or he just doesn't outlive his friends to see them in a situation like that.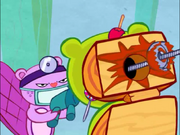 Apathy
Obliviousness
Due to his lack of intelligence, it is common for Lumpy to remain oblivious to injuries and deaths happening right in front of him. Still possibly due to his low intelligence, Lumpy is also often apathetic to the other characters' suffering, even more often than he is oblivious to them, and can be considered to rival Fliqpy in terms of cruelty.
Apathy
Obliviousness
Similar to Giggles she is a very caring character and is very rarely oblivious to her friends dying or getting injured.
Apathy
Even though Handy is known for being apathetic when someone dies, he still shows emotions now and then, just at a lower rate compared to most of the characters.
Apathy
Although Nutty prioritizes sweets above people, he usually doesn't ignore other characters' suffering when he takes his mind of sweets and sugar.
Apathy
Obliviousness
Although supposed to be the smartest character he usually doesn't notice or care when he sees his friends suffering.
Apathy
Obliviousness
Pop is known for his bad parenting (like real-life bear fathers), so it's not difficult to find instances where he is oblivious to Cub's fate. He also has been unaware of other characters' injuries a few times. Pop also only cares about his son, he doesn't care for other characters.
Apathy
Obliviousness
Being a baby, Cub doesn't understand death and therefore shows no negative reaction when confronted to a character's death
Apathy
It goes without saying that Flaky would never ignore her friends' screams and pain.
Apathy
Oblivousness
Due to him being blind he can't even tell if he is causing harm or notice the mayhem around him.
Apathy
Obliviousness
He doesn't have moments to witness other characters' die or suffer, because if he did this list would've probably been longer.
Apathy
Obliviousness
He is like average characters who aren't oblivious to other characters suffering too often. Some of these examples could be because of his poor eyesight.
Apathy
Obliviousness
Lifty will often disregard other characters when he can steal something from them, even going as far as injuring or killing characters himself.
Apathy
Obliviousness
Similarly to Lifty, Shifty will go to great lenghts to steal from other characters, though he is also often seen happy at his brother's demise, a trait Lifty doesn't share.
Apathy
He mostly has quick reactions to other characters dying, but even he has his moments.
Apathy
Obliviousness
Since Cro-Marmot can't move or talk, it's difficult to say if he is apathetic to others' death, but some of his actions seem to indicate so.
Apathy
Flippy usually stays flipped out until the end of the episode, so he is rarely confronted to the deaths he caused, with a few exceptions.
Apathy
Obliviousness
When flipped out, Flippy believes he is at war and that the other characters are enemy soldiers. As such he purposefully kills them.
Apathy
Splendid is known for making the situation worse while trying to help, as such he has been unaware of characters' deaths more than a few times. That being said, Splendid can be considered as apathetic as he is clumsy, since he has tried to run away from the deaths he has caused or killed characters on his own accord several times.
Apathy
Obliviousness
Obliviousness
Similarly to Fliqpy, Mr. Pickles is portrayed as a character who has no remorse about killing someone.
Apathy
Other
Apathy
Obliviousness
Community content is available under
CC-BY-SA
unless otherwise noted.