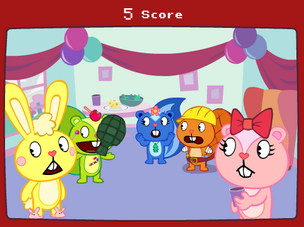 Hot Potato is a Happy Tree Friends arcade game exclusive to mondomedia.com. The objective of the game is to keep Flippy's grenade from falling to the floor by juggling it as many times as you can.
Mondomedia.com Description
It's a pot-luck party and everyone's decided to bring something to share! Flippy has shown up with the baked potatoes… only he's made his own bombastic substitutions to the recipe.
Gameplay
When you clicked 1 Player Game, a falling grenade is shown. The grenade can be juggled to keep it from hitting the floor. Click the grenade to juggle it. Score is added every time you juggled the grenade. If it falls, however, all the party guests will be killed.
Deaths
Trivia
This game is a remake of the old HTF game Dynamite. These are the differences:

The explosive in this game is a grenade instead of a dynamite.
Cub is absent from this game.
Nutty has his usual eyes instead of Pac-Man eyes.
The room is different compared to Dynamite.
Nutty is the only character who smiles in this game.
This game has music.
Compared to Dynamite, the explosive takes longer to touch the ground after it is clicked which, interestingly, allows you to gain more points. In Dynamite, the explosive falls pretty quickly after you click it.

The game's description mentions Flippy, even though he doesn't appear in the game. 
The music in the game is the same from the HTF episode Letter Late than Never, where Lumpy tries to run away from the killer turtle.
Community content is available under
CC-BY-SA
unless otherwise noted.