m

Line 1:
Line 1:
−

{{MainPageMusic (Christmas Edition)}}

 
 

<mainpage-leftcolumn-start />

 

<mainpage-leftcolumn-start />

 

{| style="width:100%; padding:10px; background:transparent;"

 

{| style="width:100%; padding:10px; background:transparent;"

Line 6:
Line 5:
 

{{mpp|fs=75%|'''With [[Special:Statistics|over {{NUMBEROFARTICLES}} articles]] [[Happy Tree Friends#Controversies|messing with the heads of minors]] since January 31, 2008!'''}}

 

{{mpp|fs=75%|'''With [[Special:Statistics|over {{NUMBEROFARTICLES}} articles]] [[Happy Tree Friends#Controversies|messing with the heads of minors]] since January 31, 2008!'''}}

 

{{mpp|fs=75%|'''The [[Happy Tree Friends Wiki:About|HTF Wiki]] is an information source anyone can [[Help:Editing|edit]].'''}}

 

{{mpp|fs=75%|'''The [[Happy Tree Friends Wiki:About|HTF Wiki]] is an information source anyone can [[Help:Editing|edit]].'''}}

−

{{MainSlider (Christmas)}}

+

{{MainSlider}}

 

|}

 

|}

 

<!-- Don't remove this line

 

<!-- Don't remove this line
---
Revision as of 02:04, 18 February 2017
Featured Article - Happy Tree Friends Returns! (October 28, 2016)
The Slow and Painful Wait is Over
After over two years on hiatus, Happy Tree Friends comes back this December with five new episodes! See it for yourself!

This section will usually be updated when there are new articles available, or when something particularly interesting appears in an already existing article.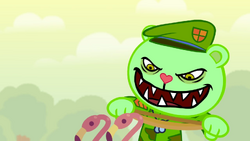 In Over Your Hedge

Flipqy is back, and this time he has a thing against Flamingos.
Contents
| | |
| --- | --- |
| Happy Tree Friends Universe | Other |
Join the chat
<chat />
Twitter
Helping out
To write a new article, just enter the title in the box below.
<createbox> width=24 break=no buttonlabel=Create new article </createbox>
Not sure where to start?
Find out more about the wiki on the About page.
If you are new to wikis, check out the tutorial.
Before editing, you may read our Policy.
Adding content
Every wiki has two list of articles that need help called "Stubs" and "Wanted Articles". Don't be shy, get in there.
New pages usually need to get a lot of work on, fell free to come there and edit a bit.
This wiki always needs some images to upload, feel free to do that. Before uploading, visit the Image Policy and than upload and image.
You can find a list of useful templates on Category:Templates, some of which are documented on the templates project page.
Practice in the Sandbox if you want to add an new article. For templates, practice in the Template Sandbox.
Happy Tree Friends Fanon Wiki
Do you want to post your own fanon character, episode, or even spin-off? Feel free to do this on our sister wiki!
Forum
<wikiaforum />
Blogs
hi y'all. first blog, you can talk about anything, as long as it's about flaky, my queen
WIP
1

Cuddles: Camp Pokeneyeout

2

Giggles: Every Litter Bit Hurts

3

Toothy: Eye Candy

4

Lumpy: Out on a Limb

5

Petunia

6

Handy: No Time Like the Present
This was Cuddles, last starring role in the series. He had got an actual starring role since In a Jam which was 9 years ago when this aired.
Don't scream at me …
hno no no nnobnob no vb oncv ob nv jg sh hguoietr i heuwr qeta ugrtiqeuytrgt egayr tyuaergtyerg5 ter tuie rytuie yhtiuore jkd guh teriug tuyer gyure gyuer guye guyi gyear gtyuerg tuist gibsi u iug uibs iubs yibugib uygi gbuti ygbuig ut utig trghno no no nnobnob no vb oncv ob nv jg sh hguoietr i heu…
More blogs...
Mission
The primary mission of the Happy Tree Friends Wiki is to collect information that will be useful to people who are new to the Happy Tree Friends series and even those who are familiar with the show. This wiki serves as a network of user added and editable information for the whole series.
About
Happy Tree Friends is a Flash cartoon series by Mondo Mini Shows, created by Kenn Navarro, Aubrey Ankrum, Rhode Montijo and Warren Graff. Since its debut the show has become a popular internet phenomenon and has won a cult following. As indicated on the official site, the show is "not recommended for small children". Notwithstanding the cute appearance of its characters, the show is extremely violent, with almost every episode featuring blood, gore, and violent deaths. The show is so violent, it was banned in Russia!
Top 10 contributors
Loading...