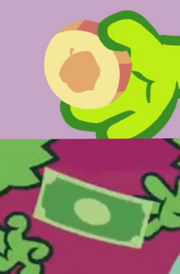 Money is an object that is often used by the main characters to pay for meals, items, services, toys, etc.
Description
The money in the HTF universe is for the most part made up of gold coins. The producer of the coins is unknown but it is most likely represented with an acorn symbol which can be seen on the coins in several occurrences like in Hear Today, Gone Tomorrow and In a Jam. Dollars are also occasionally used in the show, though they don't appear with the acorn symbol as the coins occasionally do. The dollars are often made up of green circles. Gold is another form of currency in the HTF world as Lifty and Shifty are both seen trying to gain as much of it as possible in Sea What I Found and As You Wish.
Cost and Worth
The worth of a single coin in the series is very inconsistent. In Nuttin' Wrong with Candy and A Sucker for Love Part 1 a coin can be used buy candy from a candy machine yet at the same time a coin can afford a guitar, as seen in In a Jam.
Cost Chart
Every Instance Where Money is Shown Without Being Spent
Community content is available under
CC-BY-SA
unless otherwise noted.