Wiki Targeted (Entertainment)
Play Sound
Trivia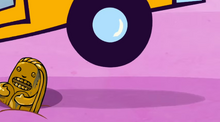 The second bump the bus hits is The Cursed Idol, as pictured on the right.
This is one of ten Season 1 episodes with no quick shot moment in it. The other episodes are Pitchin' Impossible, House Warming, Whose Line Is It Anyway?, You're Bakin' Me Crazy, Meat Me for Lunch, Sweet Ride, It's a Snap, Off the Hook, and Hide and Seek.
This episode, You're Bakin' Me Crazy, Tongue Twister Trouble, Sweet Ride, It's a Snap, Off the Hook, Spare Me, Snow What? That's What!, This Is Your Knife, Happy Trails Pt. 2: Jumping the Shark, Ten Speed, and Eleventh Hour have an age-restriction.
Petunia also has to go to the bathroom in Wingin' It and Something Fishy, only those times she doesn't wet herself as she uses a toilet.
This is the first and so far only episode to show urine.
Lumpy is responsible for every death in this episode.
The Mole is the last character to die in the first internet season. Of the shown deaths, Toothy is the last character to die in the first internet series (since The Mole is only shown in the bus in the end, but doesn't appear in part 2, which also has extra graves).
This is one of the few episodes with no closing iris, as it just fades and says "To be continued". The others are Treasure Those Idol Moments, Hello Dolly, Idol Curiosity and Double Whammy Part I.
This is one of the few episodes where Mime dies a slow death, compared to his other deaths, which are mostly instantaneous.
This is the first time Sniffles survives.
The color of the exterior of the bus is the exact same as Cuddles' body outline.
This marks the first time a death happens offscreen.
When the bus falls off the cliff, Handy is making his signature scowl instead of screaming.
Cultural References
The title is an expression of goodwill to someone who is leaving.
Mime's death is similar to Marcello's death from 1000 Ways to Die, who is ironically a mime as well, except that he choked on a pickle, not a peanut.
Superlatives
Production Notes
The creators initially intended for this to be the final episode of the series, intentionally ending on a cliffhanger, but were surprised when they were asked to begin a second season of episodes.
This is the last episode of the season to play at 8 frames per second, with increased framerate starting in the next episode.
Community content is available under
CC-BY-SA
unless otherwise noted.