Double Vision is a YouTube game of Happy Tree Friends. The game is similar to "spot the difference" games, where the player has to spot the difference between two images. The game has a time limit, however, seeing as it is a YouTube video, it can be paused for unlimited time to complete the game. When a level is complete, a short death scene from a Happy Tree Friends episode plays as a reward before moving on to the next level.
There were originally six levels of Double Vision. However, due to popular request, new levels were recently added, giving the game 12 levels. However, since YouTube decided to phase out annotations at the beginning of 2019, the game is no longer playable.
Here can be the link to the game: Double Vision on YouTube.
Levels
Level 1
Handy is seen on the end of the bowling lane from I Nub You.
Difference: Center-bottom, Handy is missing the hammer from his tool belt.
Level 2
Sniffles is doing the Vulcan salute from Something Fishy.
Difference: Top-right, an extra rope is added.
Level 3
Lumpy looking at the box the sweater for Giggles was for from Letter Late than Never.
Difference: Center-right, the position of the pink box is different.
Level 4
Cuddles driving up to the railroad crossing from Aw, Shucks!.
Difference: Center-left, the shadow of the sign is bigger.
Level 5
Nutty riding away with Toothy's gurney from Chew Said a Mouthful.
Difference: Bottom-center, the cement crack is thicker.
Level 6
Mouse Ka-Boom holding a bomb from Operation: Tiger Bomb.
Difference: Bottom-left, a tear on one of the bandages on his ear is missing.
Level 7
Cuddles, Giggles, and Mime in the malfunctioning elevator from See You Later, Elevator.
Difference: Center, Cuddles' uvula is missing.
Level 8
Lifty and Shifty sitting on the swings from Swelter Skelter.
Difference: Center-right, an extra drop of sweat is added to Shifty's head.
Level 9
Lumpy trying to push down a zombified Nutty's limbs back into the ground from Remains to be Seen.
Difference: Center-bottom, an extra finger is added below Lumpy's hand.
Level 10
Cuddles drowning in the water filled coffin from Can't Stop Coffin.
Difference: Top-center, the bubble in the center is slightly bigger.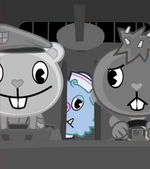 Level 11
Flaky nervously looking at Flippy from Without a Hitch.
Difference: Center/Bottom-center, Truffles' cameo.
Level 12 (Final level, as of now)
Sniffles smiling in front of the Baboon's cage from From A to Zoo.
Difference: Top-center, one of the blue stipes on the Baboon's nose is missing.
See Also
Community content is available under
CC-BY-SA
unless otherwise noted.