This is a list of arcade games based on Happy Tree Friends. These games are available on provided sites and are provided with links to playing them.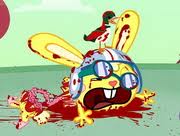 Interactive games available on Youtube
Milk Pong: Nutty has to throw a pingpong ball into a glass. Move the ball over the glass and when you click the mouse, the ball will go into the glass and Lumpy will drink the milk.
Play here
Double Vision: There are multiple levels in which the player must spot the difference between two images that are a clip from an HTF episode, winning a level plays a short, violent clip from a random HTF episode.
Play here
Lumpy's Lame Card Trick: Lumpy is a magician performing a card trick. The player is shown six cards and must select one.
Play here
Trivia
This Game Is All Flocked Up is the only arcade game to contain no blood and gore.
If you subscribe to the Mondo site, you might also see upcoming arcade games from the e-mail they gave you.
So far, Strandead, Run and Bun, and Dynamite are the only HTF arcade games to be also available as iPhone apps.
Stay On Target is the first game to feature Lammy.
See Also