Wiki Targeted (Entertainment)
Play Sound
Many of the deaths that occur in Happy Tree Friends are a result of the main characters doing something ignorant, unwise, or just downright stupid. Almost every character is prone to committing these actions, causing the deaths of themselves and/or the characters around them.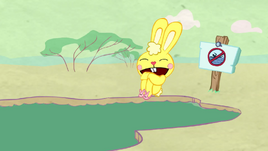 Cuddles is known for being mischievous and self-centered, which is often the root cause for several of his actions and sometimes the death of other characters and/or himself.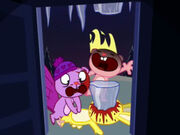 Like most characters, Giggles is blissfully ignorant and unaware of hazards until the last minute. She does seem to be narrowly smarter than the other characters, at least in common sense.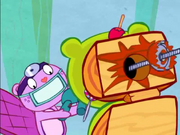 Toothy tends to act on impulse, in terms that he chooses not to think before doing things. More often than not, his mind is like Cuddles: reckless, and mischievous. He does have more common sense than Cuddles, however, or at least is more cautious, but otherwise, his impulse often takes over his thinking.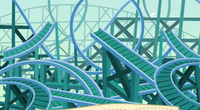 Lumpy is considered by most fans as the least intelligent character in the series and is responsible for the majority of the stupid acts committed in the show. However, on closer examination, this may not be the case on some occassions.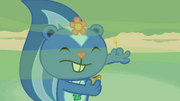 Petunia commonly makes mistakes, mostly caused by her OCD. However, she appears to be very unintelligent, making mistakes comparable to Lumpy on many separate occasions.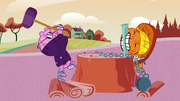 Handy does not make as many mistakes as the others characters. In fact, he is one of the most intelligent characters, though even he has his moments.
Nutty has done many things that endanger his and others' lives, mostly because of his candy addiction and the fact that he always acts before he thinks, suggesting that Nutty's intelligence is quite low.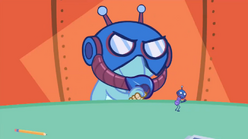 Despite being considered one of the most intelligent characters in the series by most, Sniffles has made many illogical mistakes thanks to his lack of common sense (And is actually the second character to make the most stupid mistakes, ironically enough). Some derive from his complicated inventions, which are plagued with oversights Sniffles does not notice until it is too late. To be fair, many of his mistakes double as stupidity and intelligence.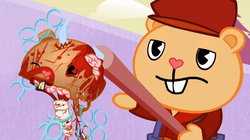 Almost earning a reputation similar to that of Lumpy, Pop's stupidity derives from his incompetent parenting, low attention span, and illogical mistakes, which is usually the cause of most of Cub's and occasionally others' deaths and injuries, and sometimes his own.
Even though he is just a baby, Cub has done some stupid things that either gets himself killed or could have.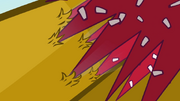 In contrast to the blissful ignorance of most characters, Flaky is known for being very cautious about her surroundings due to her cowardice; thus, she can be considered as one of the wiser characters. But even she has made mistakes.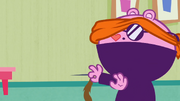 Some may consider The Mole's actions justified, since he is blind. However, there are times this rule would not apply. The Mole appears to be very stubborn and he goes with simple assumptions instead of thinking with logical conclusions.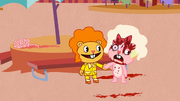 Disco Bear's intelligence is likely not very high. An early gag consisted of him accidentally killing girls and thinking their suffering was a type of dance move.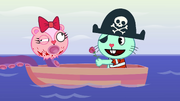 Russell's intelligence does not seem to be that high. In fact, it could be comparable to Lumpy's at times. However, some of these may be justified due to Russell's vision problems (as seen in A Sight for Sore Eyes) as a lot of these appear to be vision based rather than actual lack of common sense.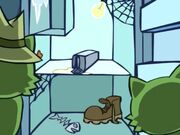 Despite being considered by most as pretty much the same character, Lifty seems to have more of the brains of the raccoon duo. However, he still makes stupid mistakes. While Shifty has done a lot of stupid acts on his own, Lifty's stupid acts are mostly done along with Shifty rather than by himself.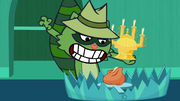 Shifty, unlike his brother, seems to have a very low intelligence level and causes more mistakes than Lifty.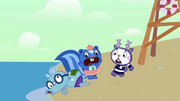 Mime has caused quite a few of these, with at least one popular case. From the information provided on Mime, he may be unintelligent, but in the minority.
Due to his body being encased in ice, Cro-Marmot has made almost no actions, dumb or otherwise. It could be argued that he is intelligent, as he is capable of moving and surfing, among other talents, despite the fact that he is currently frozen.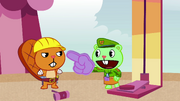 Similar to Handy, both sides of Flippy are less prone to make stupid mistakes, possibly because of his age and experience in the military. However, he does have a few idiotic moments, due to his sometimes naïve, careless and occasionally even clumsy personality.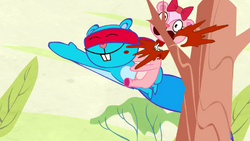 In a manner similar to Pop and Lumpy, Splendid frequently screws up his superhero duty, often making things much worse. This is due to putting his own needs first or simply out of dumb decisions. Because he usually makes stupid mistakes in almost every episode (something not even Pop or Lumpy could say), he may be the most unintelligent character in the show, possibly rivaling Lumpy.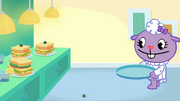 Despite her being relatively new to the show, Lammy has already proven herself capable of making many stupid mistakes.
Other
Even though the main characters are more developed and have more screen time to show acts of stupidity, recurring, minor, generic, and even one-time characters can have their acts of stupidity as well.