While the characters have been shown to be very incompetent, which is the main cause for a majority of the deaths, the characters are also capable of being very smart and having good ideas that sometimes help a character escape fatal predicaments.
Cuddles isn't the smartest character, thanks to his reckless and often rash behavior. He often thinks too fast and doesn't think about the way some of his decisions affect other characters. Even then, he still has his very rare smart moments.
Giggles can sometimes come off as hopelessly blissful and ignorant, but she is narrowly smarter than a handful of the other characters.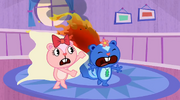 Toothy is rather impulsive and usually doesn't think before he does something and sometimes gets himself and other characters into easy to avoid situations. Basically, his mind is like Cuddles', careless and reckless sometimes, but only slightly smarter due to being less of a daredevil.
Lumpy is often considered to be one of the dumbest characters on the show, as he is responsible for a lot of stupid acts, which leads to the deaths of either himself or everyone around him. While this may be true to a degree, he simultaneously manages to pull off incredibly smart actions throughout the series (More so than any other character in the show) that may question his title as "dumbest character".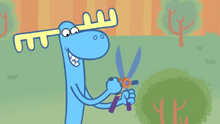 Petunia's intelligence is to Giggles what Cuddles' intelligence is to Toothy. She's isn't very bright when it comes to making decisions and her fear of germs sometimes takes away all reason and common sense in her mind, to the point of complete insanity. However, at times when there is time to think, she is capable of doing several wise actions.
Handy is one of the more intelligent characters on the show. He has his small share of idiotic moments, but he is for the most part a very smart and clever character. The only mistakes he causes are often a result of him forgetting his lack of arms, which he has no control over and therefore killed for his ignorance of this fact.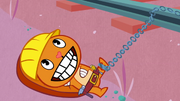 Because of his candy addiction, Nutty often doesn't think before he acts. This makes him one of the dumber characters in the show. Despite that, he has shown some signs of intelligence should it usually not relate to sweets.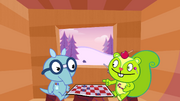 Sniffles is often regarded as the smartest character on the show, from having intelligence in basic math and science to building a range of complex inventions - even though the vast majority of them end up backfiring on him in deadly ways thanks to his lack of common sense.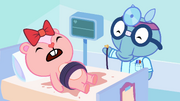 Pop isn't the smartest character. He can come off as very stupid at times but his biggest problem comes from the fact he is very ignorant and clumsy. When he's actually paying attention he can make some pretty good and reasonable decisions.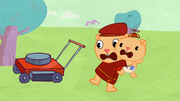 Because he's a baby, Cub isn't dumb or smart, but he has made some surprisingly smart acts in the series.
Flaky is another one of the slightly wiser characters. Her constant fear of everything around her makes her an extremely wise character. But sometimes, this can be a reason that she is just as capable of making stupid decisions like everyone else.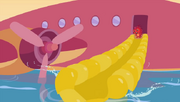 Because The Mole is blind, he has a somewhat excuse for not being considered a stupid character. The Mole is actually pretty smart because even without sight he seems to know how something he wants to use is suppose to work. (E.g. A camera in See What Develops or his phonograph in No Time Like the Present)
Disco Bear isn't very smart, although he has some common sense but is usually too obsessed with his own ego or the female characters to notice anything.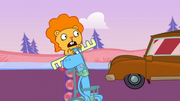 Russell is a very neutral character in terms of stupidity and intelligence. He can make mistakes that are Lumpy levels of stupid and sometimes he can be pretty crafty, especially when he's around the ocean.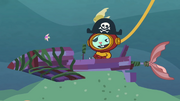 Despite being considered by most as pretty much the same character as his twin brother Shifty, Lifty seems to have more of the brains of the raccoon duo.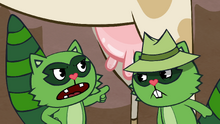 Unlike his brother, Shifty seems to have very low intelligence level. Most of his acts of intelligence are not solo, but he comes up with some smart decisions along with Lifty. But even Shifty can make some smart decisions on his own sometimes.
Mime can come of as a very ditzy, but he sometimes lacks common sense. Despite this, Mime is capable of making smart decisions and is often the first character to spot danger.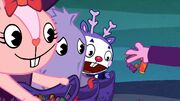 Just like Handy, Cro-Marmot isn't a stupid character. He may in fact be one of the smarter characters in the show as he rarely does anything that's stupid, but at the same time he doesn't do to many things that could be considered smart.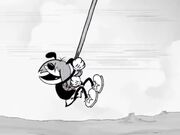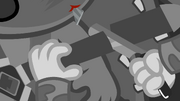 Both sides of Flippy are easily smarter than a majority of the other characters above and below, that's not to say they haven't done stupid things too. This may be because of their age and experience in the war.
Splendid is one the dumber characters of the show and perhaps the dumbest or the most careless character in the show. He often thinks for himself over others and is blind to the mistakes he causes in almost every episode he is in. Splendid has come up with good ideas to save the other characters, but every single one of them backfires, often killing the victim or making the situation worse had Splendid not interfered.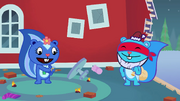 Despite being recently added to the cast, Lammy has already proven to be a very unintelligent character and has yet to do something noticeably or at least undoubtedly smart.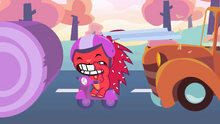 Mr. Pickels is the only, character who hasn't performed an act of stupidity (not counting Cub since he's a baby). This may make him the smartest character in the entire show, that is if he's a living creature and not just a figment of Lammy's imagination.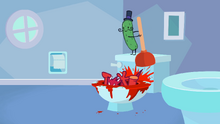 Other
Due to being experienced in martial arts, he can be concidered as one of the smartest characters, after all he is the only character with more than one starring role with no deaths.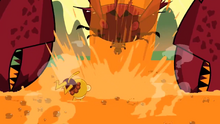 Splendont is supposed to be a more evil version of Splendid, but they are both equally dumb, considering that they are more or less clones.
The Ants are shown to be pretty smart as they are always shown to be successfully defending themselves against their natural predator, Sniffles.
The Narrator in Ski Patrol is actually very smart when it comes to tasks involving ski safety, Lumpy just keeps messing up his steps. He even knows what to do when a characters heart has been removed, as he is giving instructions to Lumpy on how to save Giggles after she is impaled in the chest with the chapstick.
Community content is available under
CC-BY-SA
unless otherwise noted.